Golden Rules for Saving Money on Construction
2 min read
There are three ways to save money on construction projects: Cutting back on up-front costs, avoiding expensive mistakes, and making the finished structure less expensive to inhabit. From hiring workers and sourcing materials to doing some of the work yourself, there are lots of tricks to stay within your budget without cutting too much out of your project.
1. Go Over the Project Line by Line
Most contractors will meet with you to go over the construction schedule and break down all of the costs. This is a great opportunity to save! Sometimes, contractors will assume you want things you don't, and you can often find elements of the project that you can do yourself or put off until later, when you have more money on hand.
When you go line by line through the budget, don't be shy about questioning anything that you don't understand. Your contractor may have assumed that you want crown molding in your renovated space, for example. If you don't care about crown molding, you can save hundreds of dollars just by taking it off of the quote.
2, Do it Yourself, Unless You Can't!
Whether you're a die-hard do-it-yourselfer or just handy with a paint brush, you can probably pick up a few of the tasks on the construction to do list. Contractors make an average of $18 to $25 per hour, so when you do some of the work yourself, you're saving all of those labor costs [source: PayScale]. The trick is to be realistic about what you can do.
Only you know what your skills are. If you can do something yourself, it can save you a bundle, but if you don't know what you're doing, there's a chance you'll end up paying more to have a contractor fix your mistakes. Certain things, like installing a toilet properly, are more difficult than they may seem. Plumbing mistakes in particular can be very expensive to fix, since leaks can cause water damage that you'll have to pay for on top the cost to have things plumbed properly.
3. Source Your Own Materials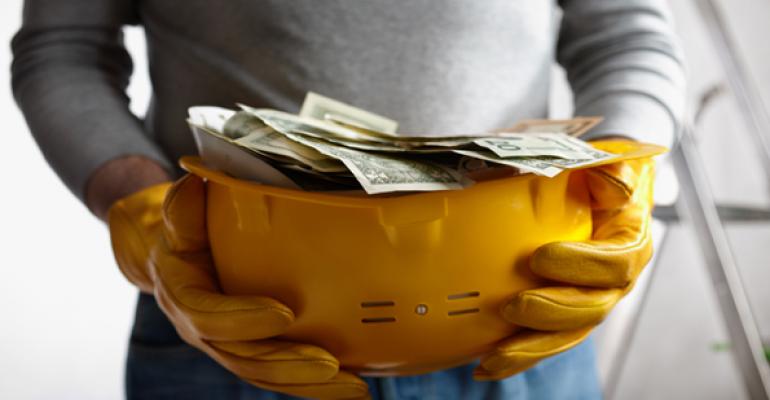 When it comes to items like fixtures, door knobs, and even cabinets, you can often find less expensive options on your own than through your contractor.
Most contractors will work with you, if you want to source some of the materials yourself, just make sure you agree before the project gets started. For example, if you're building or renovating a kitchen, you might be able to find cheaper counter tops at home improvement stores than through your contractor. You can also look for reclaimed materials to use in your project. If there's a Habitat for Humanity ReStore near you, it's worth a trip to see what they have. You can often find gently used elements like shelves and fixtures there for a deep discount.